cooper ride!
saturday, 291108, 3:27pm.
listening to: mcfly - transylvania
heard of the movie "the italian job"? yup, mini coopers were made famous by that movie in what i believe. for those of you who doesn't get the chance to be in the real mini, you can check this out! a mini cooper italian job storyline based roller coaster ride @ kings island!
check out the video as well!
interesting? get review on the ride @ the coaster critic's blog! http://www.thecoastercritic.com/2007/09/italian-job-stunt-track-kings-island.html
=)
monday, 241108, 1:33am.
listening to: bic runga - sway
this is for you...
and...
sesame street! lol... =P
it's finally in order again! =)
have you seen this brand?
sunday, 161108, 11:30pm.
listening to: radio mmu
was browsing through some pictures we took during sarawak mission trip 2007. look what i found!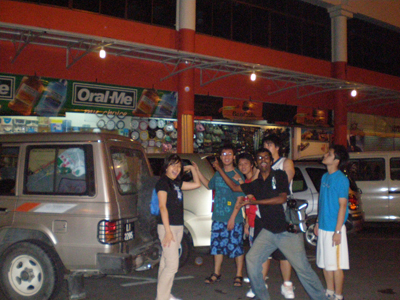 we were amazed. more to shocked! lol...

take a closer look. what does it sound like? another brand for listerine!
=___________________="
the chronicles of singh, book 2.
wednesday, 121108, 9:39am.
listening to: evan and jaron - crazy for this girl
fatty, the singh is a person who has many many unusual things that happens around him. and we, his friends are the ones who keep record and compile it in "the chronicles of singh". and this is one of his many unusual events.
we found out about this when we're trying to format his pc, we had no clue what to do with it. we thought it was cable problem, or maybe mechanism error. but fatty, the singh gave us a solution!
interesting, isn't it? lol...
welcome!
monday, 101108, 10:43pm.
listening to: one buck short - this is a love song
yes! everyone let's give a very warm welcome to our new member of "hostel community", chee wen!! *applause*

he's moving in today, well not "moving in" moving in. he's gonna crash into fatty's room temporary (i doubt) while he writes a letter to apply for a room in hostel! (which i think he will take 1 whole semester to do that). =P
but anyway, lets give him another round of applause! *applause*
comments!
sunday, 091108, 5:55pm.
listening to: we the kings - skyway avenue
finally! comments widget has been added! no more boring reading! well i'm still testing this widget, don't really know how it really works on the admin part tho. i'll just try it out first. worst case i'll just have it deleted when it goes haywire =)
had to change the layout settings of the blog since the widget doesn't really operate like how blogspot and other openid does.
till then, you can leave comments and try it out!
she's pretty again!
saturday, 081108, 1:24am.
listening to: busted - everything i knew
she? who? haha.. you'll find out very soon... like... now...
it's been awhile since i spent time with my car! yes... my car! and yes i love my car! most guys do don't they? i think it's like a guy thing. or maybe not? but it is for me. typical, i know. well my car used to have these what my friends would call "lala lights" underneath it...
(the real term is "under carriage light"! learn!) or more commonly known as "neon lights". well now you know!
yup, i used to have those, and i thought it was cool tho! and i still think it is! but it was damaged for quite sometime. around 1 year? always wanted to repair it but i just don't have the time! in other words, i spent too much time lazing around past semester breaks... i finally made up my mind and finally decided to spend some quality time with my dearly beloved car!
despite that i crawled underneath it for days and nights and sweating like a pig under the hot burning sun! and finally she looks pretty with those lights again! phew, i think i worked out more doing this than working out in the gym! lol... doing it with just small scissors jack is very very tiring! and guess what? i broke my own jack and i had to go buy myself another new one! T_T and of course i borrowed another one from my best friend! thank you so much and i will always love you! hehe! so this is the outcome!
she's all pretty again. haaaaaaaaaaa... *heart*
went for supper with my friend, and guess what did i order? it took me 10 minutes to explain to the waiter! the 1st waiter couldn't understand and so he called another waiter just to serve me! lol... i wonder what's so complicated with my order... and they laughed after they understood what i'm trying to explain... =____=
..........
.........
........
.......
......
.....
....
...
..
.
indomee double with raw egg. was it that hard to understand? maybe i suck in explaining. yeah it's been awhile since i ordered this! looks like my craving for raw egg on indomee is back! =))
bond, james bond.
friday, 071108, 3:54pm.
listening to: jason mraz ft. colbie caillat - lucky
same song again? yes yes. i don't know why i find it very nice to sing along. no doubt. been humming and singing the song ever since. seemed to be addicted to the song. =____=
anyway, went for the much awaited movie "quantum of solace" last night with parents. yes, with parents. mom requested to watch this show. went all the way to buy the tickets on tuesday! but hey, i noticed you can get better place if you booked! you can only buy few of the front rows! but you can book the back rows!
yeah i know it says "october 31" and it only released here yesterday. it's malaysia, so you know how things work. lol
this time, the show packed with more actions than ever before. but not much of a storyline. i find it quite hard to understand the show, maybe i'm just too dumb to understrand or maybe it was quite messy and too much actions. i don't know. you tell me!
was quite disappointed when they promote the Aston Martin DBS for the movie but you actually only get to see it in action for a few minutes at the starting part and that's it! bond cars were used to be throughout the movie... maybe not the entire movie but i'm sure during climaxes! but this time it's just the front part. imagine if you were late for the movie! and you'll start asking "where's the aston martin?" throughout the whole movie. and yes, this time it has got no gadgets in the aston martin unlike before bond cars have rockets and machine guns and could kinda transform like the Lotus Esprit that transformed into a submarine in "the spy who loved me".
bond girls were okay, lol. i have no comments on the bond girls. didn't really prefer any of them. just, girls. well if you really want to know, i'd prefer Gemma than Olga tho. i don't know, maybe she's more feminine and has a sweet face compared to Olga? lol.
well i guess that's about it. overall the movie was okay. i'd give a... 7/10. i'm not a professional critic so you don't have to really trust my rating. lol. it's just my opinion.
i'm officially stupid
tuesday, 051108, 6:04pm.
listening to: jason mraz ft. colbie caillat - lucky
call me stupid,
call me idiot.
i'm both.
result is out
and im screwed.
big time!
icute? no, it's ikea!
tuesday, 041108, 12:13am.
listening to: bachelor girl - buses and train
what's icute? some of you might already know. icute, a taiwanese computer accessories company who produces computer casing, laptop cooler, cpu temp. indicator, power supply, but mostly on computer casings. here's a link for some of their computer casings.
i stumbled across a very interesting article on casemodding as i was surfing around this afternoon.
it's a casemod progress by domovoi featured in a dutch computer forum. this project is awesome and you guys have to really spare some time and take a look at it! it's actually a casemod using 2 ikea Flärke tv table with all computer media hardware enclosed in the table. even the sketches for this project look amzing! well, i've posted some pictures for you lazy buggers to look at =D
for complete set of pictures for domovoi's ikea media center casemodding, click here. better still if you can read dutch! =D
credits to domovoi for his creativity and awesomeness of his work! *thumbs up*
fat. good or bad?
monday, 031108, 3:26am.
listening to: we the kings - check yes juliet
no doubt. i'm getting fatter day by day. as i look into the mirror, belly is growing bigger and bigger! is this a good sign? well i personally don't want myself to look skinny, of course i wouldn't want myself to look like a sumo wrestler! decided to start my workout routine and hopefully to stay fit =P
have to start controlling my diet which is the hardest part! who would want to stay off eating all scrumptious food! helloooooooooo! we're staying in food heaven! all the hot nasi lemak, steamboat, char kuey teow, fried oyster, bak kut teh, pork noodle, pan mee, chicken rice, curry mee, asam laksa, nasi kandar, banana leaf rice... mmmmm... there's too many for me to name it all here!
sigh, looks like i'll have to draw a line and start saying "no" to all these food until im fit again! which i have no idea when. *yawn*
i used to "live to eat" but now i'll have to "eat to live".
i'm back!
sunday, 021108, 2:11am.
listening to: one buck short - this is a love song
i know. i've been missing for a very long time. which i don't think anyone missed me! my contents are not that interesting anyway =P
but hey, after abandoning my so-called blog for years, i've now decided to bring my blog back from the dead! with new layout of course!
simplyme. which made me decided to make a simple black and white layout and a little bit of red elements just to add some kick into it so that it doesn't look too boring. well recently i realized that life is simple. it's just that we often make it complicated. too often. without us knowing it. at the end of the day, we get into trouble that we put ourselves into. yup, as what most people might say, shit happens. this might be us being too conscious about everything around us and we try to solve it but we're actually making things worse unknowingly. it's best for us to just be ourselves and leave all the worries behind and go on with our life, do what we're supposed to do and just accept everything that happens. things happen for a reason, good or bad. it might be a bad thing that happen on us, but we have to think positive in order for us to carry on happily with our life. learn from mistakes and pray that we will not make such mistakes again. every mistake we do is a step closer to success and to be a better person in life!
enough said. i've been crapping alot lately, so yeah. don't forget to drop a shout out or comments in the cbox yea! =)