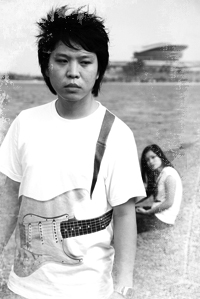 a simple truth
he is a simple guy hail from a simple family and trying to make things as simple as possible. first step into education in tadika pelangi, kajang and went to s.r.j.k (c) yu hua, kajang. then transferred to s.r.j.k (c) serdang baru 2, seri kembangan. continued secondary in smk seri kembangan, seri kembangan and got myself into catholic high school, petaling jaya for stpm and now end up in multimedia university, cyberjaya doing engineering course and hopefully someday will become a professional engineer and have a simple and happy family! =D
nickname: CyberPunk
gender: Male
age: 21
d.o.b: 12.02.87
nationality: Malaysian
race: Malaysian Chinese
height: 168cm
weight: 60kg
simply the best
home, bed, friends, cars, gundam, hot wheels, paintball, guitar, hyper tune, collections, counter-strike, music, pool, swimming, mini cooper, lamborghini.
simple connection
email: kevinybh@yahoo.com
msn: kevinybh@hotmail.com
ym!: kevinybh@yahoo.com
facebook: kevinybh@yahoo.com
friendster: kevinybh@yahoo.com






simply linkable!

save the tab above and link it to "http://www.cyberpunk.co.nr"
or
copy the text below and paste it in the </body> of your page

contact me for any affiliation request

note: flash player and a broadband connection is required in order to load radio.blog properly

just a simple thought
people that simply matters!
agnes
F A B U L O U S L Y . M Y S E L F
alan
Alan dan lembunya
danny
Devious Life, chapters of life
fatin
fatinDAbomb's FASHION & ARTS feast
felicity
of rainbows and sunshine:)
ke yeun
* THE PROOF OF LIFE *
lion king
Lion King
robin
Walking Under My Own Shadow
sheila
Your Daily Rambles; A Mouth Full of Rambling
tharan
SHoot me sHooot ME.......................

simple sweet memories
november 2008
december 2008
march 2009
july 2009